Welcome to a thread that sheds light on malocclusion—a prevalent dental condition affecting millions of people worldwide. Malocclusion, often overlooked or dismissed as a purely cosmetic concern, carries far-reaching consequences that extend beyond aesthetics. From affecting oral health and overall well-being to impacting speech, confidence, and quality of life, malocclusion demands our attention. I wanted to make this thread for a while now because there doesn't seem to be any discussion about it on here and I want to shed some light on this serious issue.
In this thread, we will delve into the causes of malocclusion, explore its various detrimental effects, and discuss potential solutions available to individuals grappling with this condition. Accompanied by relevant images and illustrations, we aim to create a holistic resource that both educates and empowers readers.
So, whether you're personally affected by malocclusion, seeking to understand its significance, or looking for potential remedies, this megathread is here to provide valuable insights and actionable information. Let's embark on this enlightening journey together.
Malocclusion, commonly referred to as a "bad bite," is a condition characterized by the misalignment of the teeth and jaws. It is often associated with various negative effects on the jaw, chin, and teeth. While braces are a popular treatment option, it is essential to understand that they primarily address the symptoms of malocclusion rather than its underlying causes. This essay explores the adverse effects of malocclusion and sheds light on the reasons why braces only offer symptomatic relief. Additionally, it highlights some of the primary causes of malocclusion, such as poor diet, malnutrition, and mouth breathing.
Negative Effects of Malocclusion on the Jaw, Chin, and Teeth:
Temporomandibular Joint (TMJ) Disorders: Malocclusion can exert excessive pressure on the jaw joints, leading to TMJ disorders. Symptoms may include jaw pain, clicking or popping sounds, headaches, and difficulty in opening and closing the mouth.
Facial Aesthetics and Chin Alignment: Malocclusion can impact the overall facial appearance by affecting the alignment of the chin and jaw. It may lead to an asymmetrical or protruding chin, contributing to aesthetic concerns and self-confidence issues.
Speech and Pronunciation Difficulties: Misaligned teeth can hinder proper tongue placement and affect speech patterns, leading to speech impediments and pronunciation difficulties.
Increased Risk of Dental Problems: Malocclusion often results in crowded or crooked teeth, making oral hygiene maintenance challenging. Irregular teeth alignment can create hard-to-reach areas, increasing the risk of tooth decay, gum disease, and other dental issues.
Chewing and Digestion Problems: Malocclusion can affect the bite force and proper alignment of the teeth, resulting in difficulty chewing food thoroughly. Inadequate chewing can lead to poor digestion, as the food may not be properly broken down, impacting overall nutritional absorption.
Limitations of Braces in Addressing Malocclusion:
Focusing on Symptomatic Relief: Braces are effective in correcting misaligned teeth and improving the bite, providing symptomatic relief. However, they do not address the underlying causes of malocclusion, such as poor oral habits or developmental factors.
Insufficient Treatment for Jaw and Chin Alignment: While braces primarily target dental misalignment, they may not adequately address jaw and chin alignment concerns. In cases where malocclusion is primarily due to skeletal issues, orthodontic treatment alone may not provide comprehensive solutions.
Neglecting Non-Dental Factors: Malocclusion can be influenced by various non-dental factors, including poor diet, malnutrition and mouth breathing. Braces, as a dental treatment modality, do not directly address these contributing factors, limiting their ability to achieve long-term results.
Causes of Malocclusion:
Poor Diet and Malnutrition: A diet lacking in essential nutrients during crucial stages of dental development can lead to malocclusion. Nutritional deficiencies can affect jaw growth and tooth eruption, resulting in misalignment. Processed foods are the main cause of this.
Alaskan Eskimos. The ones on the right eat a natural diet. The ones on the left eat the average modern diet.
Africans
Australian Aborigines
Mouth Breathing: Chronic mouth breathing, often caused by nasal congestion or anatomical abnormalities, can interfere with proper oral posture. This habit can lead to an imbalanced growth pattern of the jaws, contributing to malocclusion.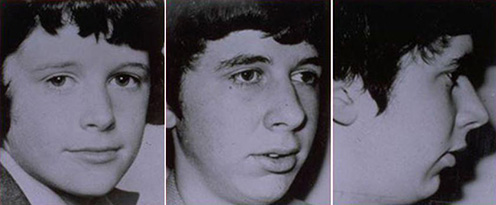 This person had a pet gerbil in his room that he was allergic to which made him develop a mouth breathing habit. The picture on the left shows the boy at 10 years old with a strong jawline. Seven years later, his chin is recessed, nose is hooked, and has poor craniofacial features overall. Do not be a mouth breather.
Look at the stark difference between a mouth breather and a nose breather.
Thumb Sucking and Oral Habits: Prolonged thumb sucking, pacifier use, or tongue thrusting can disrupt normal dental development, leading to malocclusion.
Malocclusion poses various negative effects on the jaw, chin, and teeth, impacting both oral health and overall well-being. While braces can provide symptomatic relief by correcting dental misalignment, they do not address the underlying causes of malocclusion. Factors such as poor diet, malnutrition, mouth breathing, and oral habits play a significant role in its development. To achieve comprehensive and long-term solutions, a multidisciplinary approach is necessary, involving orthodontic treatment, lifestyle modifications, and addressing the underlying causes. By understanding the complexities of malocclusion and adopting a holistic perspective, we can aim for more effective prevention and treatment strategies, ultimately promoting optimal oral health and overall facial harmony.
Although it appears harmless, thumb sucking can actually alter the facial structure of your child. In addition, it can cause problems with your child's breathing, teeth and speech.
Here are several issues associated with sucking the thumb:
Protruding Front Teeth- The two teeth in the center of your child's upper palate endure a great deal of pressure from thumb sucking. As the thumb is pressed onto the roof of the mouth, it pulls the front teeth forward, causing the front upper teeth to buck outward.
Jaw Distortion- The sensitive bones of your child's developing palate can also be affected, altering the natural dimensions of your child's face and distorting his or her appearance.
Receding Lower Front Teeth- As the force of the thumb presses against the upper palate, it also pushes the lower front incisors backward.
Open Bite- When your child closes his or her mouth, the teeth of the upper and lower palate should meet. This includes the teeth in the front and back of the mouth. Due to the dental misalignment caused by thumb sucking, when your child's back teeth meet, there may still be a gap between the upper and lower front teeth. The opening that results will likely resemble the shape of your little one's thumb.
Narrowed Upper Palate- As your child's upper jaw forms, thumb sucking can cause the roof of the mouth to curve more intensely, reducing the amount of space between the teeth on the left and right side of the upper jaw. The strong flexing of the cheek muscles as your child sucks exacerbates the narrowing effect. Over time, the narrowness of the upper jaw prevents it from resting properly on the lower jaw.
If you have children, make sure they are not sucking their thumbs!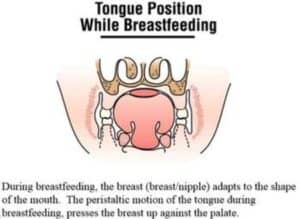 Through breastfeeding, the child will develop a tongue posture which keeps the tongue comfortable with feeding and resting firmly upon the roof of the mouth/palate. In order to pull milk from the breast, the child must push the breast into the upper palate firmly and suck back into the mouth with the tongue. This trains the child to use the tongue as the primary method of swallowing, an act which is repeated hundreds of times per day to inject excess saliva. As the skull develops, it requires the proper functioning of the muscular system in order to guide its development forward and up. A child with proper posture will have the tongue pressed underneath the maxilla (the roof of the mouth) providing sufficient support to promote forward growth. There is a constant downward force of gravity which pushes the craniofacial complex downward; The proper tongue posture of the child counter-balances this force which will cause forward growth as opposed to downward growth. AVOID FORMULA AT ALL COSTS! We all know the amount of heavy metals and other bad stuff that goes into them!
Limitations of Orthodontic Treatment
Introduction
Braces and extracting teeth in teenage years does not solve the underlying causes of crooked teeth and incorrect facial development. Orthodontics with braces has been used for decades to straighten teeth in early teens when all the permanent teeth have appeared, and although effective in forcing the teeth into straighter alignment, it's important to recognise that there are well-documented disadvantages. Along with leaving the underlying causes of crooked teeth untreated, traditional orthodontic techniques have several other risks or limitations including surgery, enamel and root damage as well as the high likelihood of relapse, unless a permanent commitment is made to wearing a fixed or removable retainer.
The main risks and limitations of treatment with braces are:
RELAPSE - up to 90%
ENAMEL DAMAGE
ROOT DAMAGE - 100%
RETENTION - For Life
Relapse
Long-term stability is a common problem with traditional orthodontic methods and treatment will most often result in relapse unless the teeth are permanently retained. Research shows that when braces are used with or without extractions, the chances are about 90% that they will return to their original position or become worse than before treatment. The pictured image illustrates teeth relapsing after treatment with braces.
"Relapse occurs in up to 90% of cases when retainers are removed."
American Journal of Orthodontics - May 1988
Enamel Damage
The surface of a tooth is made up of tooth enamel - a hard, mineral coating that protects the tooth against decay. When braces are fitted, they are bonded to the teeth through a chemical process. The enamel surface of the tooth is etched to allow for better bonding strength. Because they are bonded to the teeth it is more difficult to clean, which means the enamel can decay around the braces, causing white spots or stains. When the braces are removed, the enamel on the surface of the teeth can be permanently damaged in the process. If the teeth are not cleaned properly, problems such as gum disease, tooth decay, and decalcification (white or colored marks on the teeth) can result.
Root Damage
Research has now proven that orthodontic movement of teeth through the constant force of braces will cause root damage in nearly 100% of patients. This means part of the roots are dissolved away by the orthodontic treatment and some teeth can be lost over time as a result. The use of intermittent forces and removable appliances has been proven to cause little or no root damage. The pictured animation represents damage to the root tooth caused by braces.
100% of cases can expect root resorption of up to 4mm."
American Journal of Orthodontics - May 2011
Permanent Retention
A retainer is an appliance that is used to stop the teeth from moving once the braces are removed. Due to the fact that conventional treatment with braces does not address the causes of crooked teeth, the only way to ensure the teeth stay straight is by fitting a permanent retainer. Newer treatments with clear aligners have the same problem of relapse and also require lifetime maintenance with retainers.
"The only way to ensure continued satisfactory alignment after treatment is by the use of fixed or removable retention for life."
American Journal of Orthodontics - May 1998
TL;DR: Malocclusion will give you a hooked nose and receded chin and make you look like a jew. If you have children, ensure they are eating tough natural foods and not mouth breathing. Breast feed your babies and avoid formula to ensure correct tongue posture in the baby's mouth.