There is DNA proof that Sasquatches are real.
http://sasquatchgenomeproject.org/sasqu ... ct_019.htm
The species developed about 15,000 years ago from a human mother and an unknown species father. I have thought about this a lot, and I am always told that they are very spiritually powerful people who are on a similar path as us. They saw the problems coming and knew that they had to stay isolated from us to survive the best way. They are under Satan's protection and this is why many people don't believe in them. If they were an accepted existing species, they would be threatened by humans. Rich hunters have killed many of them before to have them taxidermied, and we don't want this to continue so we need them to think that sasquatches are fake.
Every native North American tribe has a name for this species and most include it in their art and stories. Most of these names mean things like The Watcher, Older Brother, The Teacher, Big Man, Wild Man. Many of these tribes have in their history that they have often been helped by the Sasquatches and taught how to live the best way.
I recommend Les Stroud's show Survivorman Bigfoot. He is well known for going into the wild by himself for weeks and surviving all over the world and has spent decades deep into places where no other humans go. He made this series specifically in places where Sasquatches are known to live. It has some very educated and well-researched evidence that they are real including recorded personal experiences and undeniable logic. A good example is how people ask why we haven't got a body of one and he describes how in all these decades of being deep into where bears live he has only ever seen 2 bear skeletons, and of course we all know bears are real. Full grown trees get ripped out of the ground, flipped upside down, and shoved together into a ball up in another tree in a way that would be very difficult to do with the best machinery, but it is in places hundreds of miles away from civilization with no roads and not enough space for any machines to go there. This is a common marker that they usually place wherever they live all over the continent.
Reports of sightings and attacks by giant hairy "men" had happened for over 400 years from people going to Africa and people thought that it was fake until guns were made and someone shot a mountain gorilla. If Europeans have only been in America for about 250 years, Sasquatches are smarter and better at hiding than gorillas, there are still blocks of thousands of miles of forest that have never been explored and many areas like this where noone lives, of course we haven't "found one" yet. Or have we? There have been skeletons found all over the US of giants; the Smithsonian museum has admitted to destroying thousands of them and refusing to display them. These are probably Sasquatch skeletons or skeletons of the other species that Sasquatches are a hybrid of.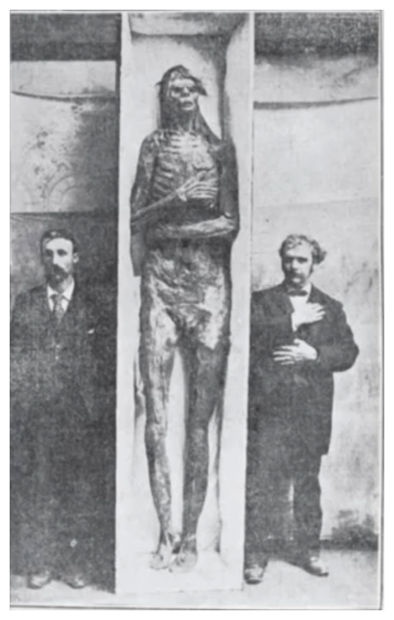 https://www.sott.net/article/256712-A-g ... -of-renown
The Smithsonian was where every artifact and bone found in US was send to and nearly all of it was completely sealed away/destroyed so that they could tell us that
In the words of Vine Deloria, a Native American author and professor of law:
"Modern day archaeology and anthropology have nearly sealed the door on our imaginations, broadly interpreting the North American past as devoid of anything unusual in the way of great cultures characterized by a people of unusual demeanor. The great interloper of ancient burial grounds, the nineteenth century Smithsonian Institution, created a one-way portal, through which uncounted bones have been spirited. This door and the contents of its vault are virtually sealed off to anyone, but government officials. Among these bones may lay answers not even sought by these officials concerning the deep past."
The Mound Builder civilization from Midwestern US was one of the most advanced there was with the largest cities in and near Wisconsin. It lasted over 5,000 years as part of the great Vedic global civilization.