Prelude to the Problem
Over the last winter season, and perhaps repeating this spring, I noticed an uptick in people getting sick. While this is not anything new, it does represent an obstacle and incident of suffering for which a solution should be had. Some people may be unaffected by this, whereas others may have been severely hindered.
As SS, we have many tools at our disposal, and the underlying knowledge to wield them. Like with our knowledge of the soul, humanity has also been deprived of knowledge pertaining to the physical body and how to manipulate it (giving way to Covid and other medical corruption).
However, many of us are aware of the elemental
system
as it relates to energy work. Just as we understand and can use astral Sun energy, so too are dense objects such as our physical body subject to the elemental
system
. With this in mind, we can start to understand how to approach various ailments.
Many are aware of holistic theories of medicine such as Traditional Chinese Medicine and Ayurveda, which approach the human body through the lens of energy. Yet, even these systems can hit certain limits, as they are not totally integrated with the knowledge of the soul.
When we combine both fields of knowledge, an SS is able to pick and choose which actions would lead to the best health outcomes. Sometimes a physical solution, like avoiding certain food, is a better investment of time and effort than trying to overpower it with energy work. In other cases, the best and more long-term solution would be energy work.
I have partnered with
BrightSpace666
to create an overview of the immune
system
, as well as some methods one can do to both prevent and treat common-cold style illnesses. Through this, one can take more steps than laying in bed, perhaps avoiding illness even entirely.
--------------------------------
Overview of Solution
Within Traditional Chinese Medicine (TCM), the immune
system
is viewed as a type of energy called 'Wei Qi'. Qi is a yang aspect of our body, and the
Wei Qi itself is derived predominantly from the Lungs, but also Kidney and Spleen yang
. Therefore, situations such as cold weather or overwork, which both sap yang energy, can therefore decrease the strength of the Wei Qi.
A strong vitality creates a strong immune

system

.
With the chakras, we know that solar chakra is mainly responsible for vitality, and it is of the element of fire. Fire correlates to physical yang, and the solar chakra is close to the above organs, namely the spleen. For the lungs, we see them near the heart chakra, which itself is of fire and air and responsible for circulation. Lastly, the base chakra with its influence over the bladder and intestines, as well as adrenals, would aid the expulsion of pathogens, as well as give endurance to one's vitality.
Efforts focused on strengthening these chakras and the associated planetary energies will subsequently boost the Wei Qi.
While doing your advancement routines should lead to a stronger Wei Qi, in general, sometimes this too can still be overpowered where conditions permit. In this way, one should not be alarmed, just understand that the solution calls for focusing energy towards, and therefore amplifying the Wei Qi.
Source 1:
https://www.elementhealing.com/the-immu ... em-wei-qi/
Source 2:
https://www.satanisgod.org/www.angelfir ... hakra.html
Source 3:
https://www.satanisgod.org/www.angelfir ... hakra.html
Source 4:
https://satanisgod.org/www.angelfire.co ... hakra.html
--------------------------------
Acupressure for the Immune

System
The primary method we know to alter physical energy are yoga and pranayama (and traditional exercise). Such exercises are critical for general health; however, one can be more specific if they particularly desire to improve their immune
system
(such as during the onset of a cold).
To direct physical energy towards very specific physical goals, one must make use of acupressure to stimulate specific nadis
and the organs which correspond to them. Otherwise, one can pursue herbal or activity-based treatments for a similar result. Although learning holistic medicine may initially prove cumbersome, the ability to direct physical energy towards healing virtually any imbalance, especially acute ones, is very useful.
The basis of action for the Wei Qi is that it acts to push out the invading pathogens from the body, such as through a fever. A strong enough Wei Qi would block pathogens at a point where symptoms would not be noticeable, just like a strong AOP or aura.
Without going into excessive detail, there are 2 bodily reactions involved in a cold:
-
"wind-heat"
: Distinguished through heat-invasion symptoms like sore throat, strong fever, cough, and yellow discharge
-
"wind-cold"
: Distinguished through cold-invasion symptoms like chills, stiffness, mild fever/no sweating, and clear discharge
Wind-heat is usually seen during warmer months when the environmental heat is stronger (and the body has more yang). Wind-cold is usually seen in colder months when the environment can sap the yang of the person, or where a person is already weakened and has less yang in general.
In both cases, the lungs and Wei Qi work to push out the pathogens, so a "dispersing" action is useful in both cases. However, wind-cold requires heating items, like garlic, ginger, or onion. Wind-heat, on the other hand, requires cooling items, such as fruits, green vegetables, or herbs like peppermint.
Source 5:
https://www.tcmsimple.com/cold.php
To aid the body with fighting off wind-heat (or to clear heat in general), one should drink more water. The fever response shows the body has the yang energy to "push", but such a strong fever can also dry out the body, therefore water is needed, but not an excessive amount. On the contrary, a wind-cold invasion would do well with light exercise, sauna use, thick blankets, or anything else to yang energy and sweating.
In this way, one can see how both categories of items are useful for immunity, just in different ways. Also note the seasonal differences of when each food is available, indicating when you are most likely to need them. Similarly, seasonal allergies usually fall into a wind-heat or heat situation. Someone who has high heat, in a general sense, will have an overactive immune
system
, resulting in increased sensitivity.
However, doing either treatment in excess can be harmful if you push yourself too far. More is not necessarily better here. The main idea here is to complement and accelerate your recovery, not face this like a battle to be angrily fought. One should expect to recover faster with these tips, not necessarily continue working at the same workload. Combining all of these treatments, rather than focusing on one, can help avoid creating imbalances.
Source 6:
https://www.acupuncture-points.org/wind-heat.html
Source 7:
https://www.acupuncture-points.org/wind-cold.html
--------------------------------
Acupressure Points:
Lung 7
: Main point for improving lung function and fighting colds: strengthens the immune
system
, clears lungs and throat, actively expels all pathogens from the body.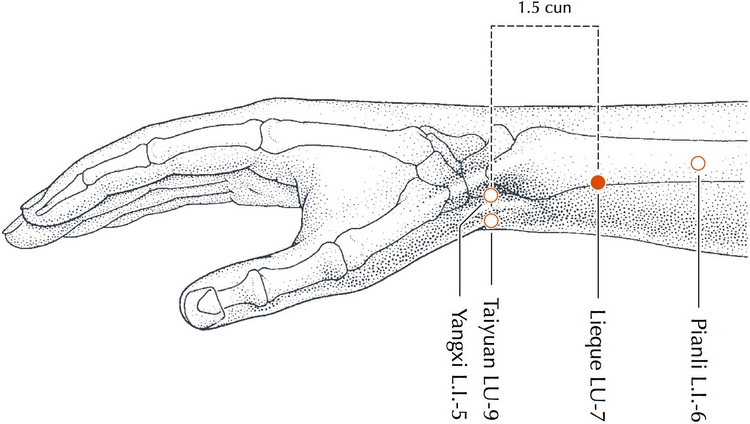 Large Intestine 4
: Clears wind and heat pathogens, stimulates lungs and immune
system
, restores yang and removes dampness and phlegm. Main point for facial symptoms.
Large Intestine 11
: Clears heat from the body, through the blood. Includes pre-existing inflammation as well as fevers and sore throats from an infection.
Stomach 36
: Stimulates digestion and processing of food into blood and energy; resolves dampness (e.g. congestion/diarrhea) in the body. Provides energy as long as food is present. Resolves any spleen or stomach problems. Useful where low appetite is becoming problematic.
Source 8:
https://www.chinesemedicineliving.com/a ... ne-

system

/
Source 9:
https://www.americandragon.com/Points/LI-4.html
--------------------------------
Herbal Formulas
There are many herbal formulas on the market, below are some examples for the specific conditions described above. Such formulas can further boost the immune response, especially when someone is unable to do the other treatment methods.
Notice in their descriptions that they employ the same elemental strategy as described above. The Wind-Cold formula focuses on warming the body, and the Wind-Heat formula attempts to cold the invading heat. The formula for general defense focuses mainly on spleen/stomach organs, which represents general vitality, as does the solar chakra.
Wind-Cold Formula
Wind-Heat Formula
General Immune Defense Formula
--------------------------------
Spiritual Solutions
In regards to using the tools that most are already aware of, one can also create a program that can be used for short-term or emergency uses. Obviously, this is best done preventatively, but like the acupoints above, it can work in both scenarios.
One can do something relatively small, such as:
-
Aura/chakra cleaning
: Both as a treatment and prevention.
-Breathing exercises:
Bhastrika
(be careful with wind heat),
Yogic Complete Breath
-
Rune vibration
(x10/x40 of Sowilo, Uruz, Berkano/Algiz) perhaps Thurisaz
Preventative Affirmation: "My immune
system
is healthy and strong in every sense. It protects me from all negative energies and diseases!" x3
Treatment Affirmation: "This energy has now and permanently removed the illness from my body, in a fast and healthy manner for me." x3
Sowilo, Uruz, and Thurisaz work better for treatment, with Berkano and Algiz being more suited for prevention, although the former runes can still be useful in regards to building up one's energy.
--------------------------------
Due to Yoga's direct benefits on both the body and soul, one should always be doing these daily. As far as prevention goes, Yoga is irreplaceable in regards to its influence on the body, especially with such a small time investment. Remember, Kundalini yoga represents yang-style yoga, increasing fire in the body, whereas hatha yoga balances and is more yin-style.
When looking at the chakras, the focus should be placed on the solar chakra, followed by the heart and base, as all of these pertain to the immune
system
in their own way. Empowerment can be done through
energy breathing
,
spinning
,
using mantras
, and
pranayama
.
In a more permanent sense, larger workings can be done. Unless one is frequently beset by colds, I would not focus an entire 40 day working on immunity alone, but rather vitality as a whole, such as with Uruz and Sowilo.
As far as Squares go, the Sun and Mars rule over vitality. Mercury rules over wind conditions and the lungs, whereas Venus rules over what seems to be heat conditions of the blood. Saturn rules endurance of the body.
Improving these in their own ways would strengthen these aspects of your body, however, vitality itself can be directed through the above methods to compensate until a permanent solution can be had.
Through a combination of the above methods, one can tackle the common cold, as well as similar infections. Such a process also follows how one can address other diseases/imbalances of the body, and so this template can be applied broadly as well.
Source 10:
https://satanisgod.org/www.angelfire.co ... ships.html
Please note:
Although I study and enjoy TCM, I am not a substitute for a professional in this field. In addition, I cannot be right next to you to further aid any diagnostics and treatment plans. You are always better off consulting a professional (such as through a video call), in addition to doing your own learning and practice.
Thank you to Brightspace for their insights, contributions, and support.